Friday was a fun day full of my favorite two little people in the world...well, one is little, the other can almost look me in the eye these days!
Mike didn't have to work yesterday so I was looking forward to a fun day with Cody, Haley, and Mike.
Haley arrived at 9:30 and was still waking up so she just watched cartoons and woke up for about an hour. Then we packed up and went to Walmart to get some shorts for under her little dress and something for Cody too. Then we drove to Michele's house to pick Cody up from getting off the bus...last day of school was a half day!
We went to eat at a Chinese place and it was good. Here are a couple shots of Cody and Haley at lunch!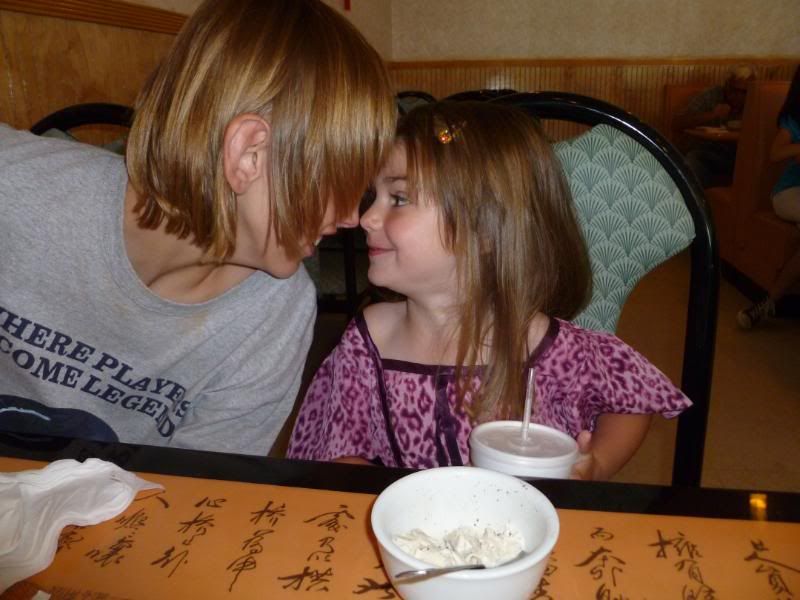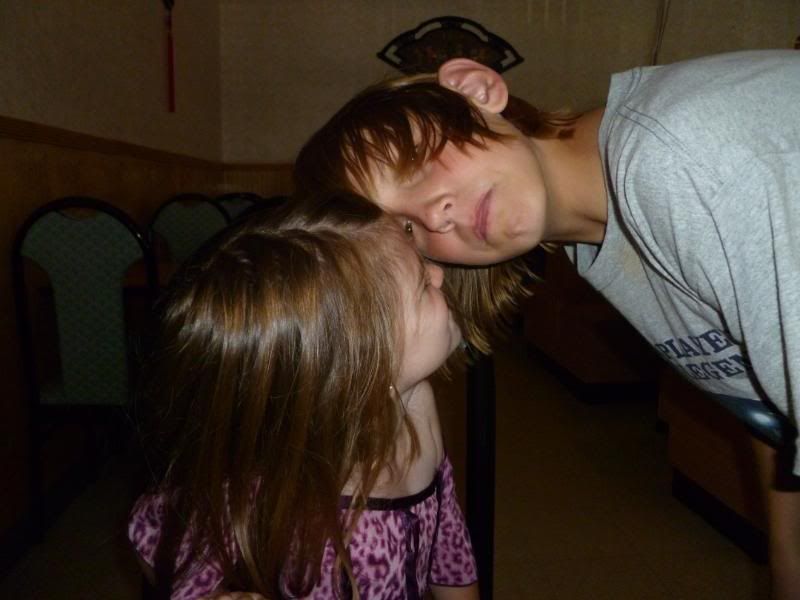 Then Mike asked Cody if he wanted to go to the batting cage which Cody and I both thought he meant at Putt Putt, turns out Mike meant the free one at the ball field, but because I was driving we went to Putt Putt.
Cody wanted to do the batting cage...now I remember why I want to buy him a batting cage and pitching machine for his backyard...just so expensive! We spent $15.00 and he was finished in less than 30 minutes and felt like he really didn't do anything! So I will get the batting cage and pitching machine for his birthday this year and be done with it! I took video of him doing that, but it's rather boring, once you see a child swing a bat...well, you've seen a child swing a bat! LOL
Haley and Popple went riding on the water boats! Haley had a fine time until one of the totem poles blew water on her, but that was after they were in there for a long time so it was okay! :)
Here are the photos of Popple and Haley and a video of them too!
I love the way Haley is hanging onto Popple's arm in this picture! I tried blowing it up, but it just doesn't make it real clear! I think she was holding on because they were getting ready to go through the sprayers! FYI: Haley picked the boat they rode in and she picked green! I do believe I've brainwashed my grandchildren!
Everyone needs some Dippin' Dots on a hot afternoon!
When all that was finished we stopped by Chic-Fil-A to get our free Spicy Chicken Sandwich! I loved mine, Mike thought it was too spicy...the kids didn't get one because it was for supper and they were going home!
We were home for 45 minutes before I had to take Cody to physical therapy for his pitching arm. I will post pictures and stories about that tomorrow or Monday! Have a lovely weekend!